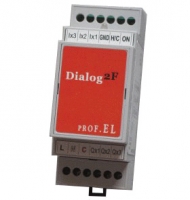 This small communicator knows how to communicate with Fujitsu inverter air/water heat pump outdoor unit.
It converts the standard analog and digital output signals of regulators or central management systems (SCADA)  in to a 'language' which  only Fujitsu "understands". With this communicator it is possible to control and regulate production of heating and cooling with any controller.
With Fujistu heat pumps you can complete your existing heating system, which ensures you comfort in all seasons, exceptional system efficiency and lowers your heating costs.
For more information, refer to the User manual. If you have any further questions, we are available for you on info@profel.si.