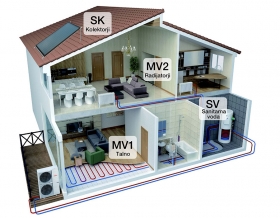 A very unstable  energy market in recent years and rapid progress of technique and technology has resulted in a wide range of options when deciding for a heating system.
First it is necessary to select a source of energy (firewood, wood chips, pellets, sun, air, water, soil, …), then the transmission medium (air, water, …), after this the method of heating (radiators, convector, radiant, …) and also a way of distribution of power within the premises at appropriate intervals and with appropriate strength. Considering all these options it would be very difficult to find a solution that would be optimal for a wider range of people.
Therefore we dedicate to you and together find the best solution for you!